DIEGO ESCOLAR, PH.D.: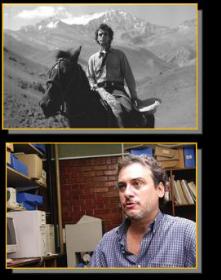 Author of: "LIGHTS IN CALINGASTA VALLEY: REALITY AND THE ETNOGRAPHY OF THE "EXTRAORDINARY"

Dr. Diego Escolar
Consejo Nacional de Investigaciones Científicas y Técnicas
Universidad Nacional de Cuyo

Diego Escolar was born in Buenos Aires city, Argentina, in 1966.

He studied Anthropology at the University of Buenos Aires (UBA), receiving his PhD in 2003.

Since 1992, the central scenario for his research activities was the Cuyo region (San Juan and Mendoza provinces), on the border with Chile, stretching over the Andes mountains and the desert of the Argentine west. He conducted research on the life and history of rural or gaucho populations in the region (herdsmen, muleteers, baqueanos, shepherds, hunters, small farmers), for which purpose he lived with the inhabitants of dry lowlands or travesías, and crossed the Andes between Argentina and Chile on horseback on numerous occasions.

His doctoral dissertation specifically addressed the resurgence, since the 1990's decade and from among these very populations, of indigenous identities related to the Huarpe people, believed to be extinct as of the 17th century. During the field trips made for these investigations, in 1998, he lived the experience narrated on this website.

Field works and other activities related to his research were supported, in addition to the National University of Buenos Aires (UBA), by the National Council for Technical and Scientific Research (CONICET), the National Agency for the Promotion of Science and Technology (ANPCyT), the Institute of Economic and Social Development (IDES) and the Antorchas Foundation in Argentina, as well as by the Rockefeller Foundation and the Social Science Research Council (SSRC) of the United States of America.

As a result of his research studies he has published many works in books and scientific journals, books in cooperation, and a book of his own that is close to publication in Argentina and other countries.

Currently Diego Escolar is a member of the scientific researcher career of the National Council for Scientific and Technical Research in his country, and a professor at the National University of Cuyo in the province of Mendoza, Argentina.